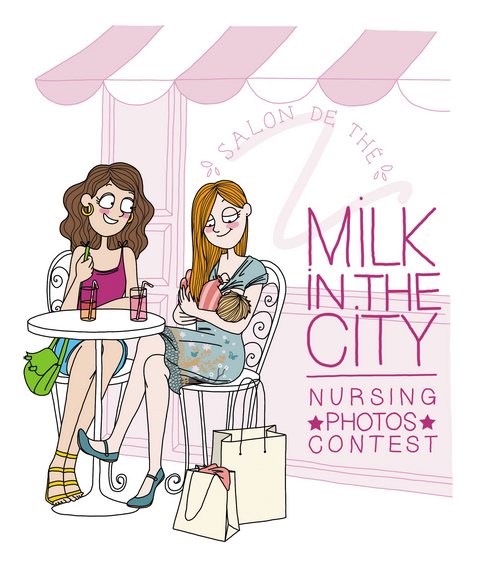 We're thrilled to announce the official launch of the "Milk in the city" breastfeeding photo contest. 
The idea: take a breastfeeding photo while you go about your daily life: at the market, in a coffee shop, in a museum, in a store, in the bus, etc.
This is mamaNANA's 7th annual breastfeeding photo contest and we're looking forward to being impressed with your diverse and fun images.
To upload your photo, go to the "Milk in the city" contest page.
You have until midnight September 30th (French time) to participate!
Some frequently asked questions and their answers:
1.  Why a nursing contest? Why this theme?
At mamaNANA we like the idea of getting breastfeeding out of the closet.  Without getting too "in your face" about it, we want, with this contest, to show the real face of breastfeeding today: diverse, natural, at ease, an everyday kind of a thing, simply normal. And what could be more normal than a mother living her life (running errands, meeting people, etc.) and taking her child with her?
With these images, we also want to reassure pregnant mothers who want to breastfeed and might wonder how to reconcile frequent nursing and an active life.  And also reassure mothers who are nervous about exposing themselves while nursing outside of the home (they'll see in these images that there isn't anything immodest about nursing outside of the home…)
We hope to show that our villages and towns, our shops, our buses, our librairies,  our waiting rooms, our administrative offices, our restaurants, our highway stops, our amusement parks (etc.) welcome mothers and children, and that in spite of some recent controversies (see here), nursing on the town is easy!
2. Is this contest only for women who live in a big city?
When we say "city", we don't want to exclude anyone: if you live in a village with 200 inhabitants with just a post office and small grocery store (and there are many such villages throughout Europe), you can absolutely send a picture breastfeeding on a bench in front of the lone mail box in the village!  The idea is to show everyday breastfeeding, in places where you're not isolated.  So it's not a contest just for Parisians (or Londoners), that's a promise!
3. I would love to participate the photo I have isn't "perfect", is it worth sending it in?
 This is an amateur photo contest, not a professional one, so we're not looking for perfect photos (light, framing.) If you look at winning pictures from previous years, you'll see that they're very varied: sometimes, yes, there are beautiful, rather sophisticated shots, but more often than not, there are simple photos.  Your everyday click-and-shoot shots often have more charm and feeling than photos that are too worked-on.  Especially since this year's theme is all about spontaneity and real life!
4. Is there a limit for the age of the breastfed child on the photo?
No, of course not.  Infant, baby, toddlers or older, we're interested in all images.  And it's a good time to show that breastfeeding isn't just for infants.  Showing photos of long-term breastfeeding will help change mentalities.
5. What's new in the contest this year?
The theme is different of course.  Last year we had a "Mummy, Daddy and me" theme.  The year before we had a theme  called "Globe-téteurs" (loosely translated as being about breastfeeding while touring the globe), this year the theme is "Milk in the city".
Other differences:
-          The contest is open this year to all resident of the European Union and Switzerland.
-          Mothers En Vogue, a specialist in eco-friendly nursing wear, is the contest partner this year and is sponsoring the prizes (see below).
-          This year, you can, if you so wish, add the Facebook "like" button below your photo so you can later click on it and share your photo on your Facebook wall.  This will enable your friends to "like" our pictures.  Adding this button is completely optional.
6. What are the prizes?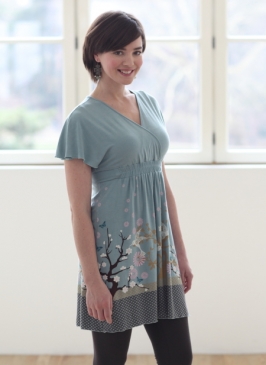 1st prize : a nursing wardrobe (two dresses and two tops),  total value 400 euros,  offered by contest sponsor Mothers En Vogue.
2nd prize : a nursing wardrobe (one dress and two tops), total value 200 euros, offered by contest sponsor Mother En Vogue.
3rd prize : a nursing wardrobe (one dress and one top), total value 100 euros, offered by contest sponsor Mother En Vogue.
See lefft  an example of a fantastic Mother En Vogue dress, as pretty as it is practical for nursing, the Kyoky Kimono tunic.
Don't worry, we won't randomly send tops and dresses to the winners.  By October 15th, when we announce the winners, the new Mothers En Vogue collection will be up on the website.  Within the budget above, winners will be able to indicate what they'd like to receive from that brand.  We'll help them select the size and cut that'll fit them best.
7. When will the results be announced?
Winners will be announced on October 15th, at the start of France's national breastfeeding week.
8. How will mamaNANA use the photos?
First of all, your photo won't be used to sell products, or be featured in a commercial offer of any kind.  You won't find your photo on our brochures or website product pages.  The contest pictures will only be used in connection with promoting the contest.  Examples include:
-          Publishing the winning photos on  mamaNANA Facebook page or on the mamaNANA blog (the winners' first name and each nursed child's first name will be mentioned, but not the family name).
-          Inclusion of all participating photos in a slideshow dedicated to the contest and made available on YouTube (as we did for the "Mummy, Daddy and me" photo contest).
-          Photography exhibits in maternity wards.
The detailed contest rules are available in English on the contest page on www.mamanana.com.
 If you have any questions, don't hesitate to ask them below!